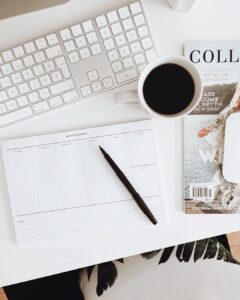 So, you want an influencer agent to represent you? Take a load off!
An influencer agency will have bookers who handle all your business and work towards getting you paid more. So how do you get there? 
1. Create Content on a Regular Basis
Is this something that you already do? If so, what platforms are you using and how can you be making the most out of this content? If you are already creating videos on Tiktok and sharing them weekly for example then you can be repurposing these videos for your Instagram Reels too. The more content you create the more chances you will get seen!
2. Have an Area of Focus
If you're not a content creator and you want to be then try to come up with an area of focus for the next couple of months. Think about what you enjoy and how you can show this to your followers. If you are a makeup fanatic or you love all things fashion related you can create videos around these niches. You might want to find influencers that inspire you and search for tips and tricks on creating your own content. Actively join webinars and workshops to build up your skills and have a play around in your spare time. 
3. Build Your Audience Organically
It's important to take into consideration your audience on your platforms too. You will need to make sure that your audience is completely legit and there are no fake followers or likes on your profile. Brands and agencies will see right through this when looking at your insights and engagement! To build this up naturally – it will take time but an authentic audience is worth the wait!
4. Create a Community
Once you have built up your following you can look at your audience as a community. Ask them questions, create polls and find out what they like to see. This will help when you are looking for content ideas but will also build trust with your followers. Top Tip: This is super valuable to brands because you are more likely to sell their products to an audience that trusts what you have to say!
5. Improve Your Insights
Now onto the tricky stuff – Insights! 9 times out of 10 a brand will ask for your insights before they book you in for a job. This is why agencies have to do a thorough check of your insights before they sign you onto their boards. If a brand is investing their money and products into you as an influencer they need to be confident that they are going to get a return on their investment. This is why brands will usually request to look at the following: 
Gender Split – what percentage of your followers are females?

Age range – which age group are you appealing to the most?

Country breakdown – which countries are your followers from?

Reach – how many accounts are viewing your content?
Example: If a brand wants to target female customers who are living in the UK and fall into the age group 18-24 then they will look out for a high female percentage, a top location in the UK and an influencer that appeals to 18-24 year olds. 
Try to think of yourself as the brand and who you want to be targeting based on your hobbies, interests and who you want to work with in the future. Once you have all of this you can be working on content to appeal to those people and you will find your insights improve in no time. Top Tip: Insights are only one part of the process so don't let it stress you too much! Strong quality content will get you booked too!
6. Be Professional
Last but not least, think of this as a regular job. You want to be professional at all times and respond to emails in a timely manner as if you would for an interview. Make yourself available for jobs that come through and this will increase your chances of the client working with you again. If you're easy to work with then you will be remembered!
7. Apply to J'adore Reach today!
Sign up to J'adore Reach today if you think you have what it takes to be an influencer! Email your social media platforms, insights and why you would like to be a part of the agency to scoutme@jadoremodels.co.uk and we will review your application and be in touch. Good luck!